Posted by Simone, The Coffee Girl on 1st Jun 2021
Are you one of the 64% of the population of the world who drinks coffee? Do you now choose to brew coffee at home rather than hit the nearest café?
Recent lockdowns across the globe have led to a pivot in coffee culture towards online coffee bean ordering for guaranteed fresh beans, and trying new brewing methods for making great coffee at home.
Hey: If you like any of the coffee tools we talk about here, go to this page before 30 June 2021 and grab 50% off plus free worldwide shipping (T&C apply - check it out here)
In early 2020, (pre-COVID) 79% of people who drank coffee within the past 24 hours brewed coffee at home, compared to 75% in 2017. So even before the pandemic narrowed down our availability of coffee destinations, there has been an increase in the home barista trend. During the initial coronavirus outbreak in Australia, in the four weeks to March 22, 2020, at-home consumption of coffee beans grew by 49%.
So how do you make a great coffee at home? Check out our tips relating to coffee and water quality, grind style, and bean storage here.
Now we are going to share with you some excellent coffee gadgets we have sourced – all of them are available to buy online and have home delivered. These tools will take your coffee experience to the next level and ensure you stay productive around the clock, on the go, and at home or office. Let's check out the list of best coffee accessories of 2021.
GRINDING!
Did you know that every different type of coffee-making process required specific grinding types? Check out our free Grinding Guide here.
Did you know that coffee starts to oxidise the moment it is ground? To get a sensational tasting coffee you need to grind as you use the coffee.
Having a good coffee grinder is an essential part of making a great coffee. We love this modern stainless steel grinder that comes in different colours – classic silver, black, pink, and purple. It can be adjusted to grind according to how fine or coarse the coffee needs to be.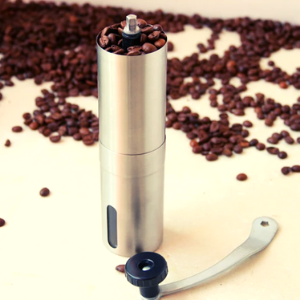 For a more vintage styled kitchen, this manual antique look grinder is perfect as a beautiful kitchen top accessory. The coffee is ground with a high-quality ceramic burr and dropped into a little wooden tray for you to use.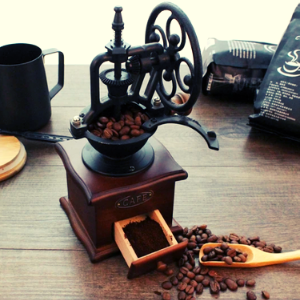 BREWING!
So many ways to brew coffee at home, and so many cool tools are available now!
Check out our e-book "How to Brew Coffee" that you can add to your cart and get for free, along with free delivery when you spend over $50 on coffee in our store.
This is one of the best ways to get an excellent espresso coffee without the need for power. You simply put your ground coffee into a little cup that sits in the capsule, tamp it and then fill the other end with hot water. Using a hand pump you will have a beautiful crema topped espresso shot in under 30 seconds. Genius!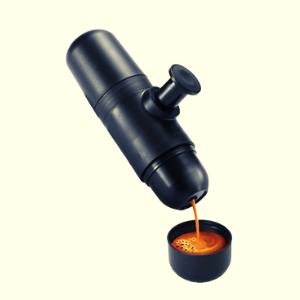 The classic French press is used all over the world and for very good reason. It brews excellent coffee!
The French Press is also called a cafetière, a coffee plunger, or a coffee press in different parts of the world.
Paper filters take out flavor and oils. When eating (or drinking) foods, the flavour usually exists in the fats and oils. Paper filters in drip machines absorb much of the oil in your coffee grounds. A French press doesn't soak up flavour and adds tiny bits of coffee grounds in the coffee that percolates flavour by steeping. Because the grounds steep instead of filter, the coffee tastes better.
With the rise in popularity of cold brew coffee, the French press acts as an excellent cold brew vessel. It is used the same way, but cold filtered water is added and the coffee is left to steep for 12-24 hours. This created a slightly sweeter and less acidic coffee. Have you tried the new Katapult Cold Brew Fairtrade organic blend yet?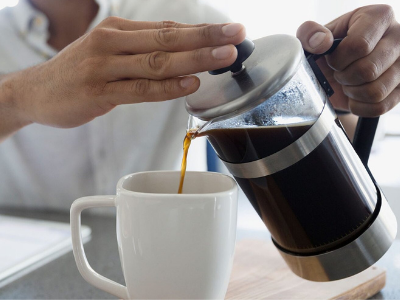 The Aeropress is a piston-style brewer that forces coffee through a thin paper filter directly into a cup. It brews just a single serving of coffee at a time, but its size and durability make it a favourite device among travellers and campers. Aeropress coffee has a clean taste with clearly defined flavor notes thanks to the paper filter that stops any oil and sediment from getting in the cup, like a French Press.
The Aeropress's versatility gives it a major advantage. People have created hundreds of recipes by adjusting variables like grind size and brew time, resulting in a wide range of unique cups. The Aeropress can even make coffee concentrate similar in taste to espresso. It is the perfect brewing device for curious coffee drinkers and experimenters.
The Aeropress style coffee maker we found is at a great price point and will allow you to experiment with this really popular coffee maker without the big price tag.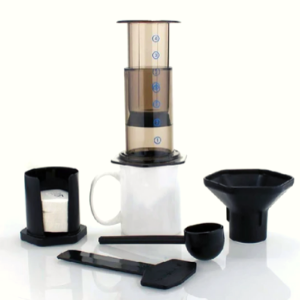 Remember when Nespresso launched the coffee pod machine? What a brilliant addition to the home coffee brewers world that was! The only problem with the pod machine was that you had to buy the Nespresso coffee pods which could be a little expensive, plus not always readily available and you were limited to buying the coffee from Nespresso which is rarely roasted fresh and definitely not ground moments before use.
We found this awesome home pod maker that enables you to use your favourite coffee blend or single origin, even make your own blend (half decaf, half caf-caf anyone!!), as well as get the coffee you know has been roasted freshly for you, and you can grind right before you pack the pod. In other words – create the best dam espresso you can!
And ten gold stars for the pods being reusable and therefore eco-friendly!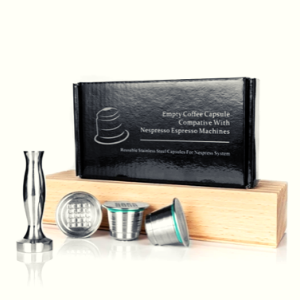 When you choose a drip coffee maker, you'll find that there's no real learning curve. It's rare to find a coffee maker of this type that isn't very simple to use. In general, all that you'll need to do is add ground coffee to the right size coffee filter for the machine, put the filter into place, add some filtered, and then start up the machine. Before you know it, fresh and aromatic coffee will begin to brew, drip by tasty drip!
Since you'll be able to control how much coffee you add to the filter, you'll also be able to control how strong your java is! They are great choices for families, for offices, or for "singletons" who want to enjoy multiple cups of coffee in the morning (or at any other time of the day or night)!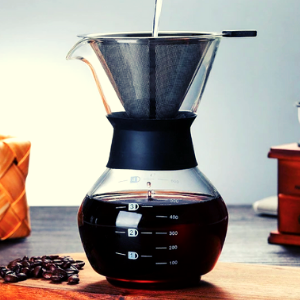 MILK!
You have made your awesome coffee, now let's close the deal with some well-foamed milk. If you have an automatic machine that steams coffee for you then this is reasonably easy (if not a little dangerous sometimes – ever been blasted with a hot steam stream??!!).
I have been enjoying warming the milk in the microwave (or stovetop in a small saucepan) then putting it in this portable blender to get it super fluffy.
This is really great for when you are travelling as a sidekick to your portable espresso maker, and also doubles as a blender for juices and shakes. I actually take it to the gym pre-packed with a scoop of protein powder then add water and blend right after a workout, which is when you need nutrition the most!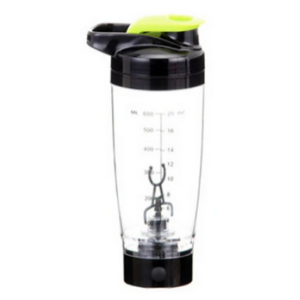 For the home perfectionist or the groovy café, these latte & cappuccino art stencils are really a cool way to finish off a foamed milk coffee. No more boring chocolate sprinkles, you can create cool designs and shapes to top the coffee foam.
Have you ever tried experimenting with using cinnamon or nutmeg instead of chocolate? Give it a go with these cool stencils.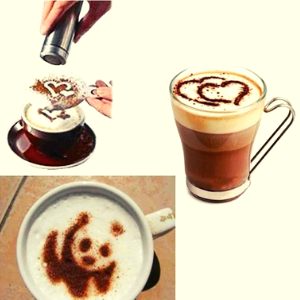 SERVING!
We have been using these excellent glasses for years, and have finally found them at a really good price. They keep your coffee hot and your wine (or G&T) cold with their double glass wall design.
They are lightweight but durable, look gorgeous, and will maintain the temperature you desire (be it hot or old) for longer.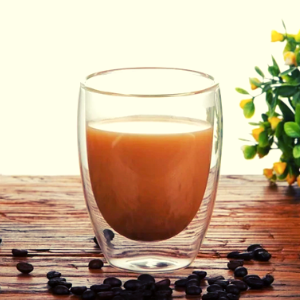 One last awesome coffee gadget is a desktop heating pad. Rather than reaching for the microwave or burning your tongue on too-hot coffee from a thermos, consider the humble mug warmer. This mug warmer is a tiny hot plate that sits on your desk and heats the bottom of your cup to keep the liquid inside hot.
A simple but genius design that will help you enjoy your coffee even if you have constant distractions or a laser-sharp focus that means your coffee sits unattended sometimes!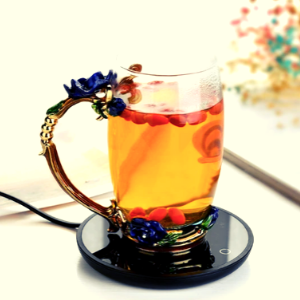 Check out all these products at our coffee gear partner shop www.shikkla.com where we have collected them all in one place for you!